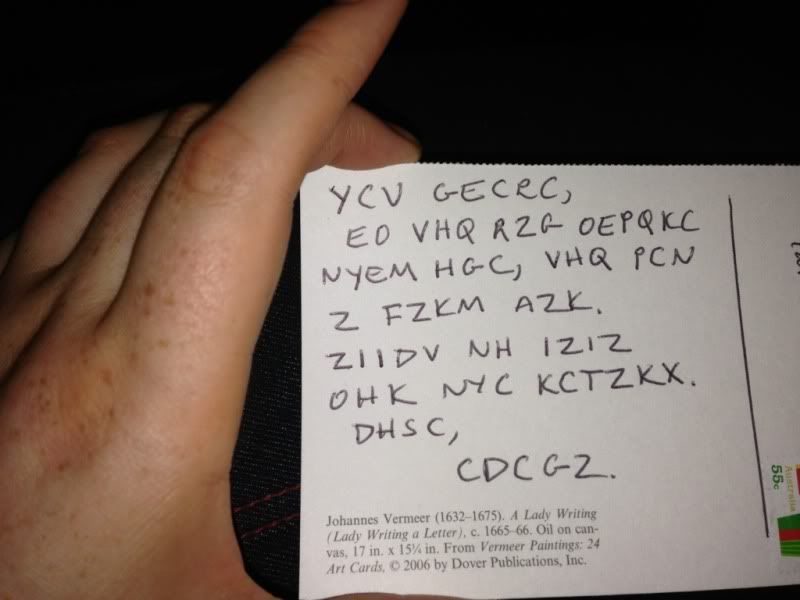 This is a card I'm sending to the Niece. The text:
YCV GECRC,
ED VHQRZG OEPQKC NYEM HGC, VHQ PCN Z FZKM AZK.
ZIIDV NH IZIZ OHK NYC KCTZKX.
DHSC,
CDCGZ.
(Go ahead and decypher if you feel inclined, but the reward doesn't apply unless you are my niece.)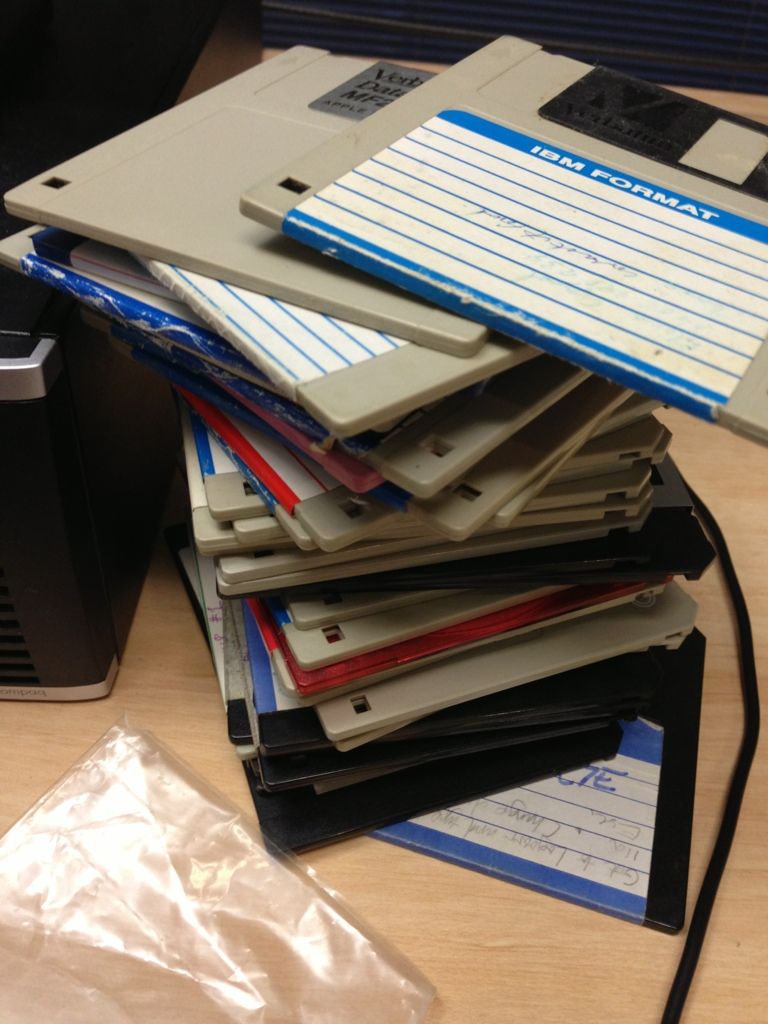 Today I gathered up all my old dusty floppies and took them to the library, where I borrowed a USB floppy drive and plugged it into one of their computers, and copied all the data I could get off my floppies onto an 8GB stick drive. My stick drive was already 99% full, but I didn't have to delete anything off it to fit the floppies, because 1% of 8GB is still 57 floppy disks, and I only had 42, many of which were corrupt and unreadable, or Mac formatted.
The disk labelled 'downloaded fanfic, the Sentinel' was unreadable. Yes, I know it's unreadable, it's late '90s Sentinel fic, but WHICH FIC WAS IT? I wanted to mock and laugh at my late-teens self for how much Candy Apple Jim/Blair WNGWJLEO slash I read.
I had forgotten how slow floppy disks' read speed was. I'd been thinking "this can't be more than 50MB or so, so it's going to be really quick work," and it took about an hour and a half. Fortunately, no one else had the computer booked after me, so I kept just auto-renewing my booking for five minutes at a time until it was done. Then I threw the disks in the bin and left, feeling much lighter.
I used to use Logowriter as a text editor, can you imagine? It's the sort of thing that only makes sense if you got your laptop through an early 90s laptops-for-schools program where they didn't want to have to teach you DOS. I was writing my heavily-Mercedes-Lackey-influenced breakthrough fantasy novel, at age 13, in Logowriter. I gave up on it when the floppy with chapter 6 on it got corrupted and I didn't have a non-corrupt backup, and it broke my heart. Fucking magnets.
---