| | |
| --- | --- |
| Current mood: | A DOODLE DOO. |
| Entry tags: | chooks! |
Today was the second working bee of the year, and the first I went to.
I'm sure I've been that filthy before, but I don't remember when. I was covered in lime, chicken manure, and mozzie bites.
I scraped chicken shit off the perches (i.e. every flattish surface) of the smaller of the two enclosures, and then another group member and I whitewashed it (hence the lime everywhere.) I also stacked up bricks against the chicken wire in the isolation shed so the junior chickens can't climb behind it and forget how to get out again.
The term "chickenshit" colloquially means petty and cowardly. I think this understates the force of the substance.
The worst job I personally did was when it turned out there had been a broken egg in one of the nesting boxes, and it had turned to brown sludge, and was well up there among the worst things I've ever smelled. I scraped and scrubbed it out.
It was a very busy morning. And then, when all the physical work was done, there was a fire and
billy tea
, and Karen brought delicious cake made from her own plums, and we all sat down and had a long meeting.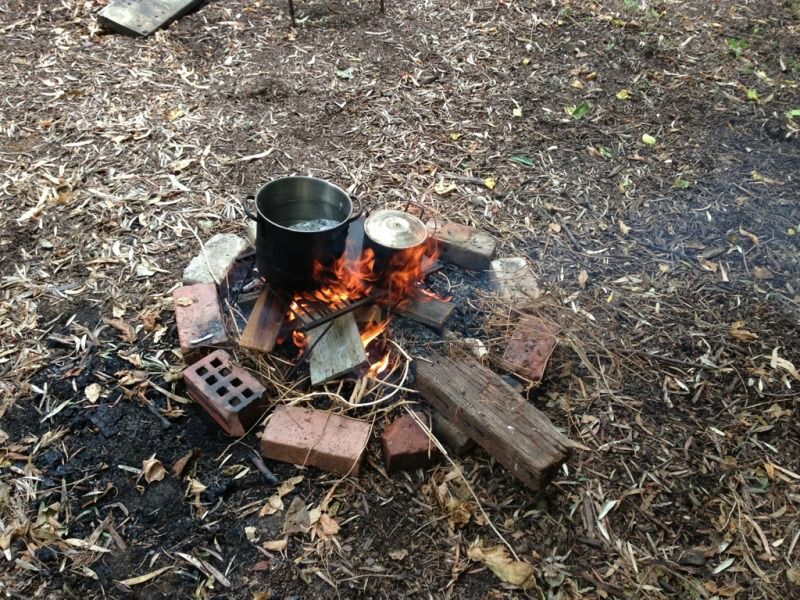 At least it was a nice fire? I'd forgotten that signing up for this meant submitting to meetings. Actually the whole morning was a lot more fun than I expected. I liked most of the people there, and there was more than enough work to avoid anyone I didn't want to talk to. And the work was rewarding.
We talked about courtesy on the email list, and reached a consensus that if there is a minor problem with someone Doing It Wrong, you should gently contact that person directly, and if the problem's more severe or ongoing, you should bring it up at a meeting. Not berate them in email while Ccing everyone else in the group.
We also discussed barnyard politics, re how we have too many roosters and one of them has to go. We all agreed that logically it should be Big Red, but that emotionally of course it's not going to be Big Red. He is about 6 years old (quite old for a rooster) and the boss rooster of the larger flock, and Lee Anne has observed that it's becoming more and more of a strain for him to stay the boss.
But she and Viviane also observed that one time when he and some hens were quarantined in the little shed and yard, he watched the bigger run longingly the whole time. And when Lee Anne reintegrated them, she watched him approach the younger rooster in that run (Little Red, who's identical in colouring but no relation as far as we know) and expected a confrontation, but instead Little Red made an "oh shit!" face and took off running. "I could see the fear in his eyes," Lee Anne said.
I love watching him strut.
Here's a very brief sample of the rest of the meeting, just to set the tone:
Viviane: Next on the agenda we have concreting plans...
Big Red: LET ME SING YOU A SONG OF MY PEOPLE.
Don: I'll ask Ivan if he can do it.
Big Red: A SONG OF MY PEOPLE.
Lee Anne: It should probably done sooner rather than later.
Don: I'll ask him and get back to you if he can't.
Big Red: I
SAID
, COCK-A-DOODLE-DO.
Viviane: Any other business?
Karen: The date of the CERES harvest festival is March 23rd, and we need people bring cordials, preserves and cakes to sell. The preserves sold really well last year, so...
Big Red: A DOODLE DOOOOOO.
---